KOMU 8 COVID-19 Coverage: 
Saturday COVID-19 Coverage: 15 positive cases in Boone County
I was looking at KOMU 8's website and I was overwhelmed by the amount of COVID-19 stories we had - and I'm a news consumer! I couldn't imagine how our viewers were feeling when they typed in KOMU.com. So, I talked to managers and they agreed to let me try out a daily live blog for our virus updates. 
It was a success. The first day's web story had 23,000 page views after 24 hours. KOMU 8's average views per web story are about 1,500.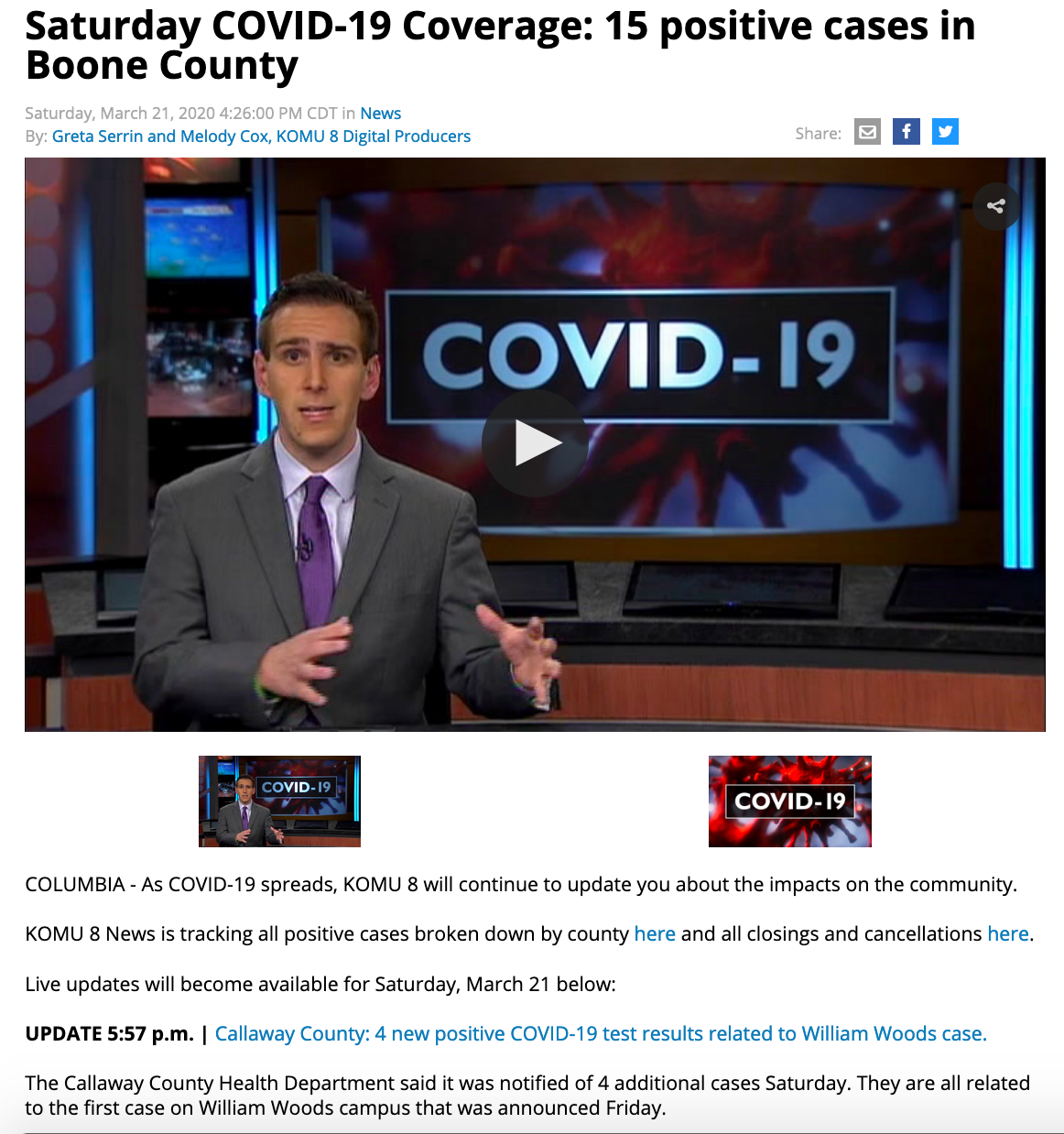 KOMU 8 Breaking News Coverage: NCAA sanctions on Mizzou Athletics upheld
A random Tuesday in

November there was word that the NCAA was going to decide whether or not to uphold sanctions on Mizzou Athletics. The sanctions came

after the University reported its own violations after a tutor completed course work for twelve student athletes. This story had been ongoing since November 2016 - so, I

decide

d

to make a timeline of all of the events leading up to this decision from previous KOMU 8 News coverage. 
The news was leaked on Twitter - the NCAA was going to uphold its sanctions. I went to work. I scoured the NCAA's website to fact-check the tweets rolling in. I wrote a bare bones story and push alerted it. I went back and started getting reactions from Mizzou Athletics, coaches, Gov. Mike Parson and other lawmakers to round the story out. The reporter on the story took what I had and went out to find fan reaction. 
Below you can find the story with embedded tweets, a press release and the finished timeline of the series of events.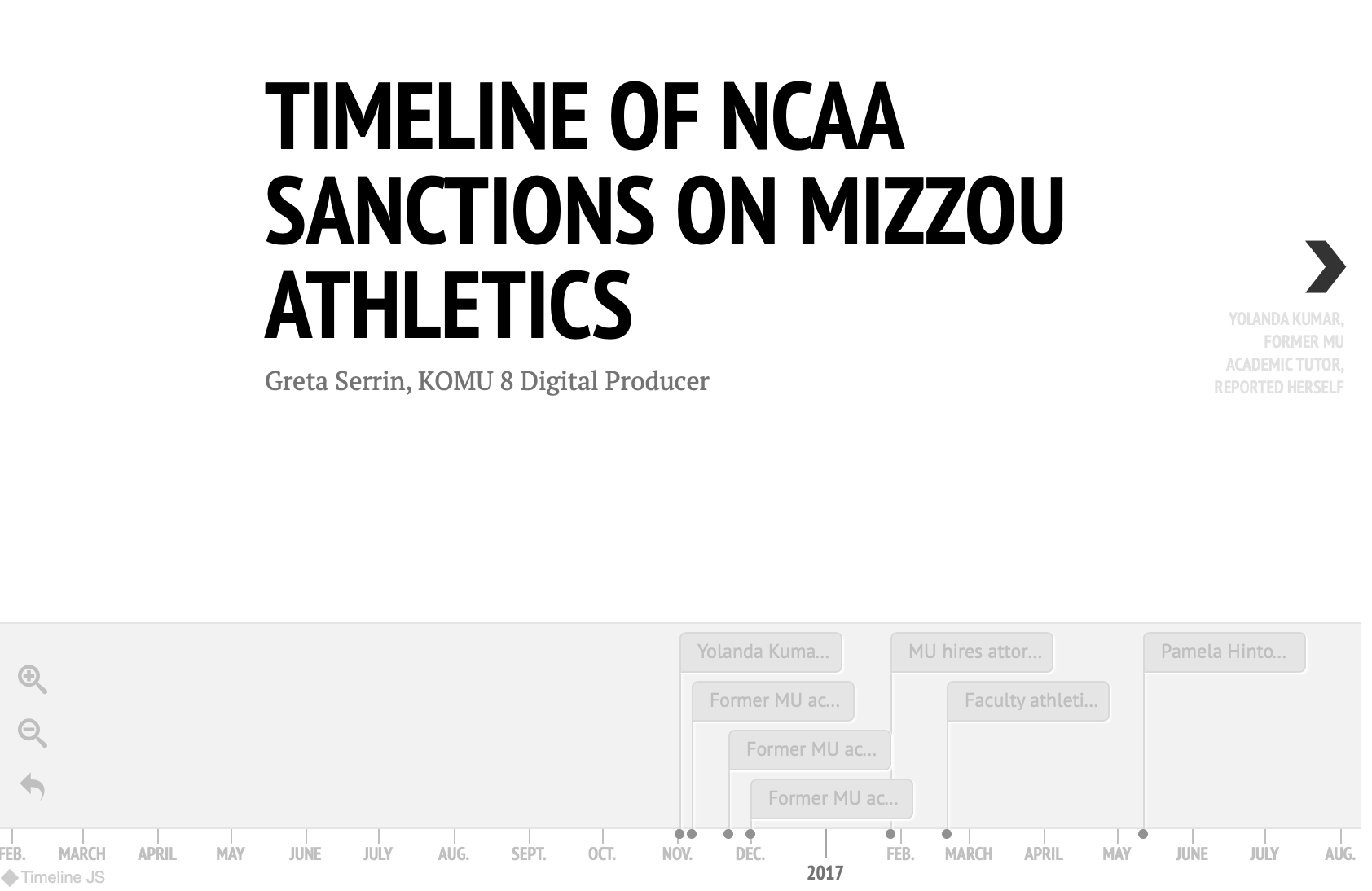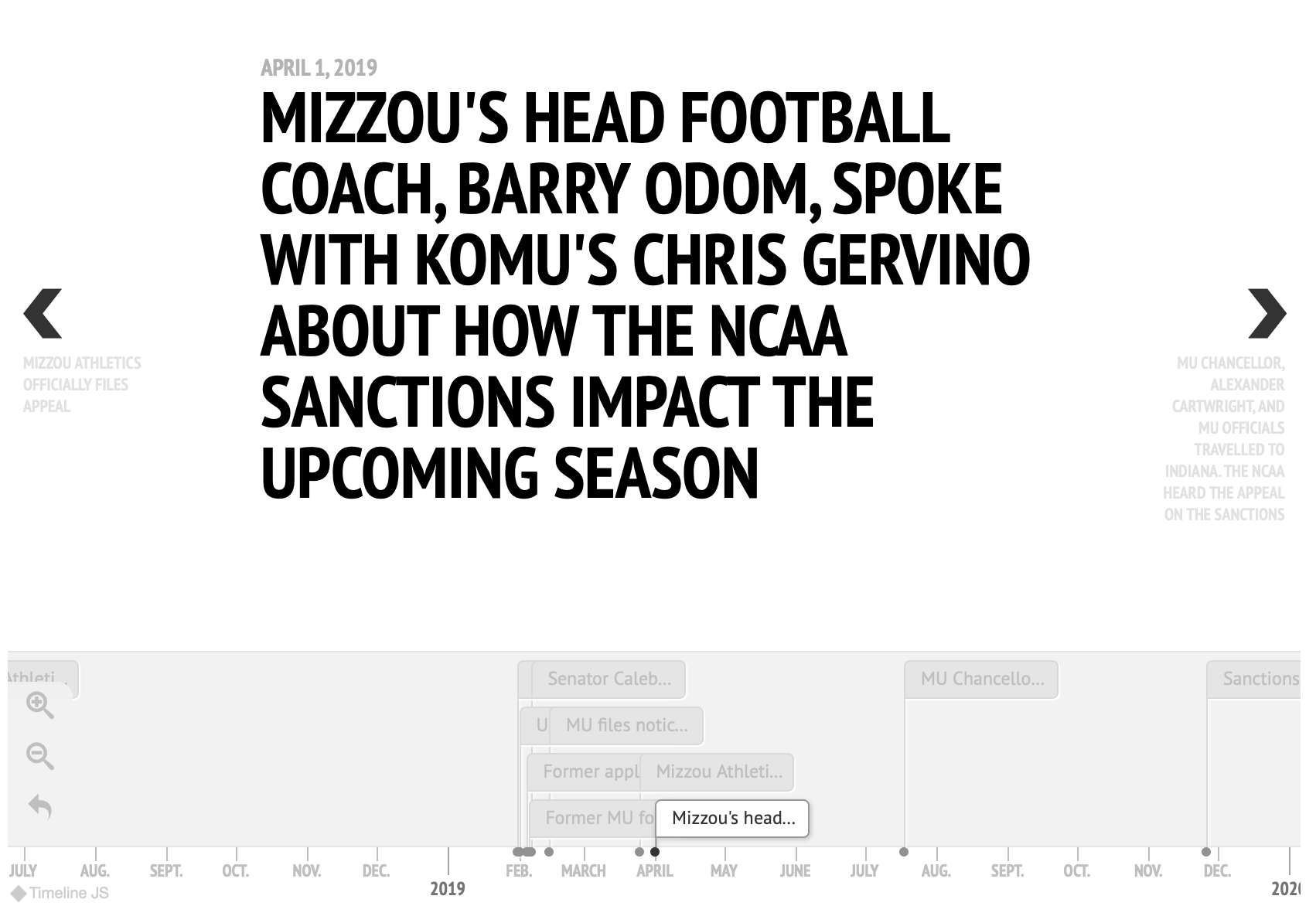 As the sole digital producer for the day, I also threw the story up on social media. Here is KOMU 8's Facebook post for the story. 
Creator of KOMU 8's Facebook Group: Picture Missouri | Through your lens
In May 2019 I worked with KOMU 8's Interactive Director, Annie Hammock, to 
create the news station's first Facebook page called "Picture Missouri | Through your lens." 
KOMU 8's Facebook always prided itself on the beautiful viewer photos it displayed. Using this knowledge, I created the Picture Missouri group for Missouri residents to display their photos. The page works interactively in use because it also gives KOMU 8 the ability to post viewer photos on all social media accounts, plus use photos for any newscast. 
In a six month span the page has gained more than 550 members, with people posting photos everyday.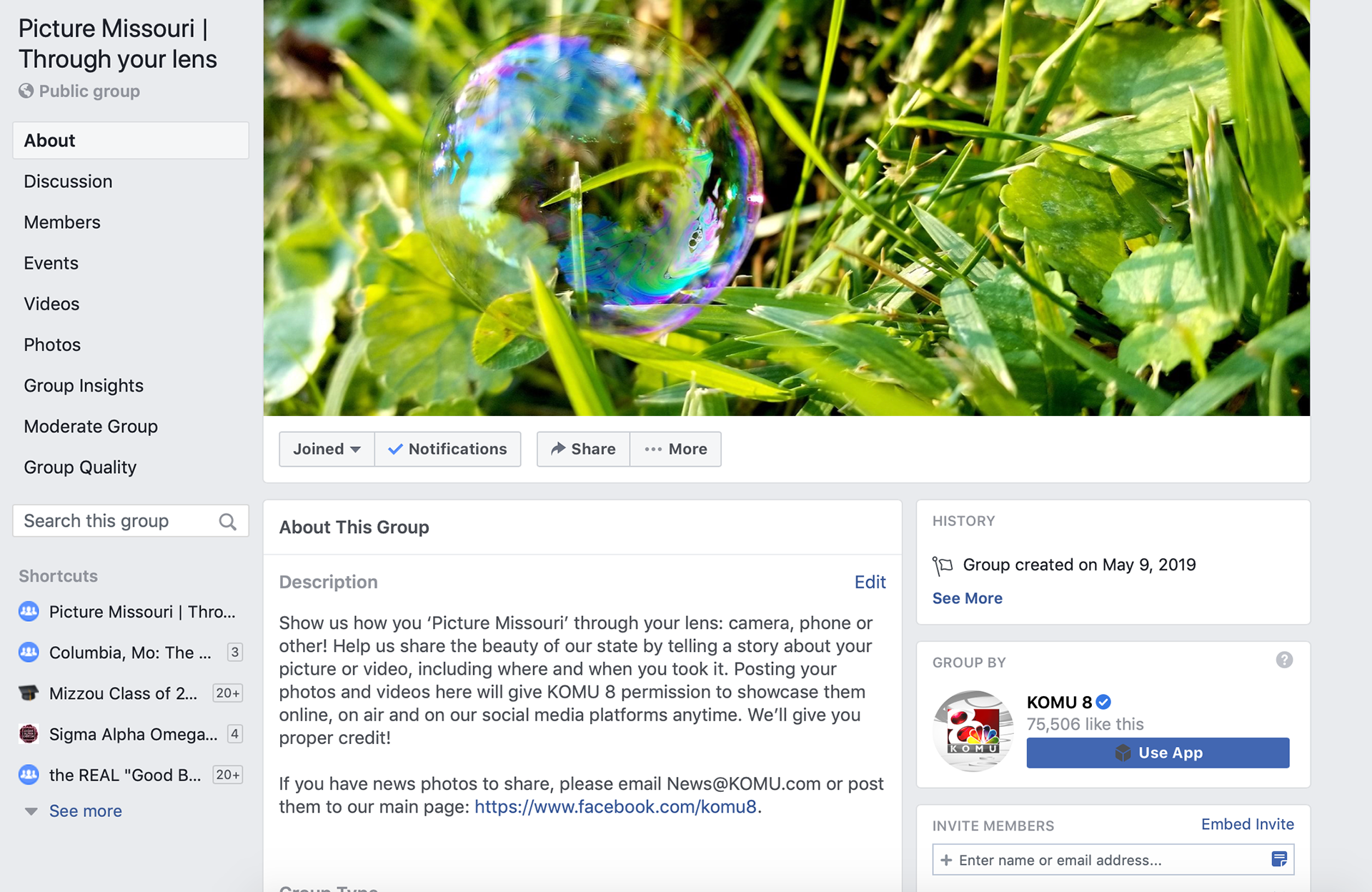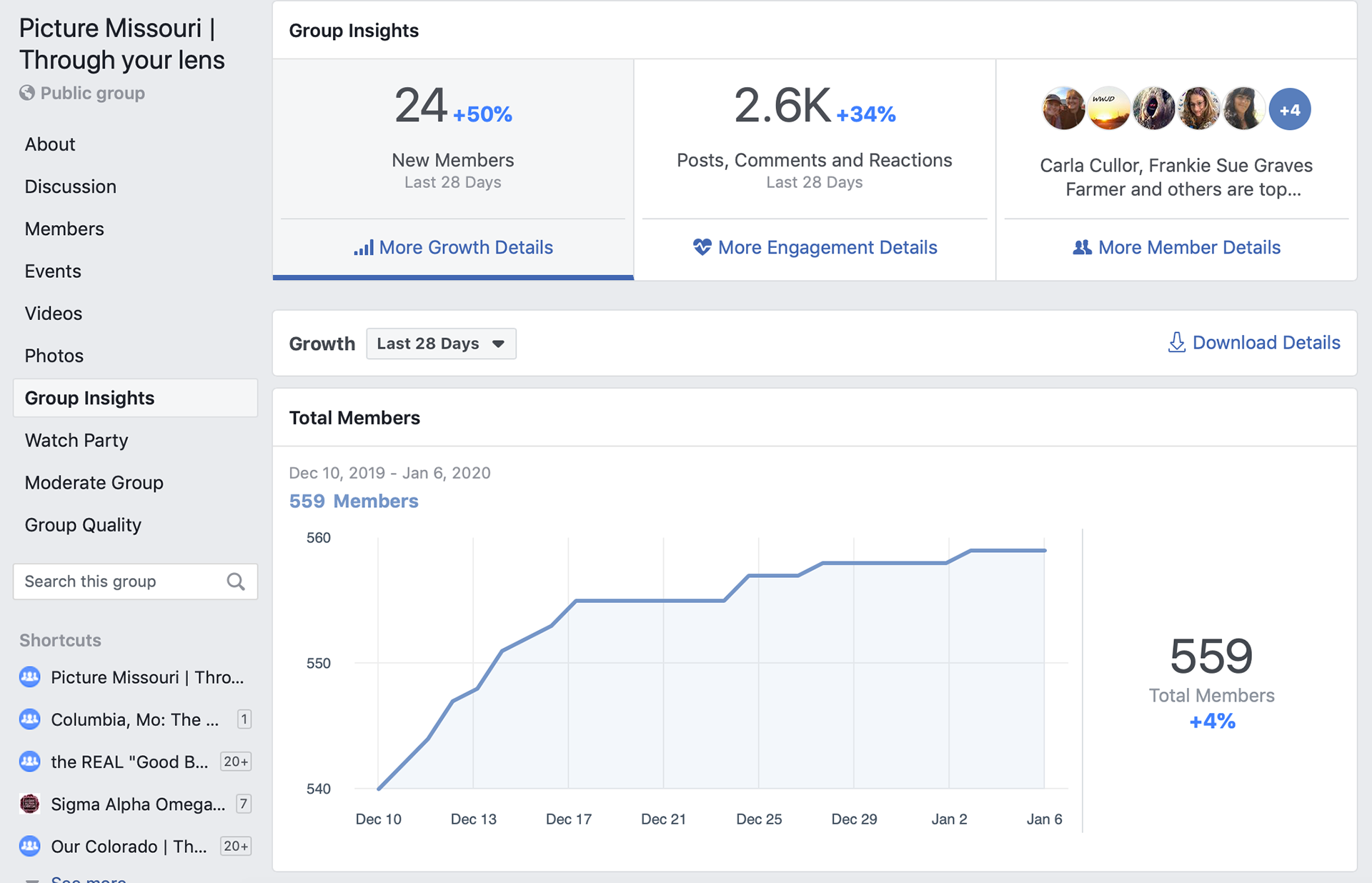 Facebook: Sedalia faces high turnover rates in its police department
Police officers all across mid-Missouri are constantly leaving smaller departments for larger ones. This means departments are constantly hiring and retraining officers to keep up.​​​​​​​ 
Here is a social media video I created to supplement my team's main audio story and overall package on police officer retention. To see the full story head on over to my reporting page!
Facebook: Breaking down the upcoming elections
Election coverage needs to be easily digestible on social media. I'm currently working on an all encompassing social media campaign for Columbia Missourian's digital coverage for the November 2020 election. My team's strategy is to break down the ballot for all four elections and turn it into easily shareable and comprehensive information.
Through our research, I found out that people want simple questions answered regarding elections. Many people don't know what all of the different elections mean or what they are even voting for. 
In less than a minute learn why Missourians have to head to the polls four different times this year. 
Facebook Live Reporting: Trump rally check-ins
President Trump visited Columbia, Missouri before the 2018 midterm election. I lead a team of ten student reporters in the field covering reactions of those protesting and supporting the President's visit. I live tweeted as well as going live on Facebook. Here are two videos my team and I produced. 
During digital coverage, I communicated with the newsroom for them to produce a live blog involving my team's tweets. I lead them in Facebook live's and coordinated where reporters went to create objective coverage between the rally and the protests happening at President Trump's Rally before the midterm election of 2018.
Instagram: Sole student manager of KOMU 8's Instagram page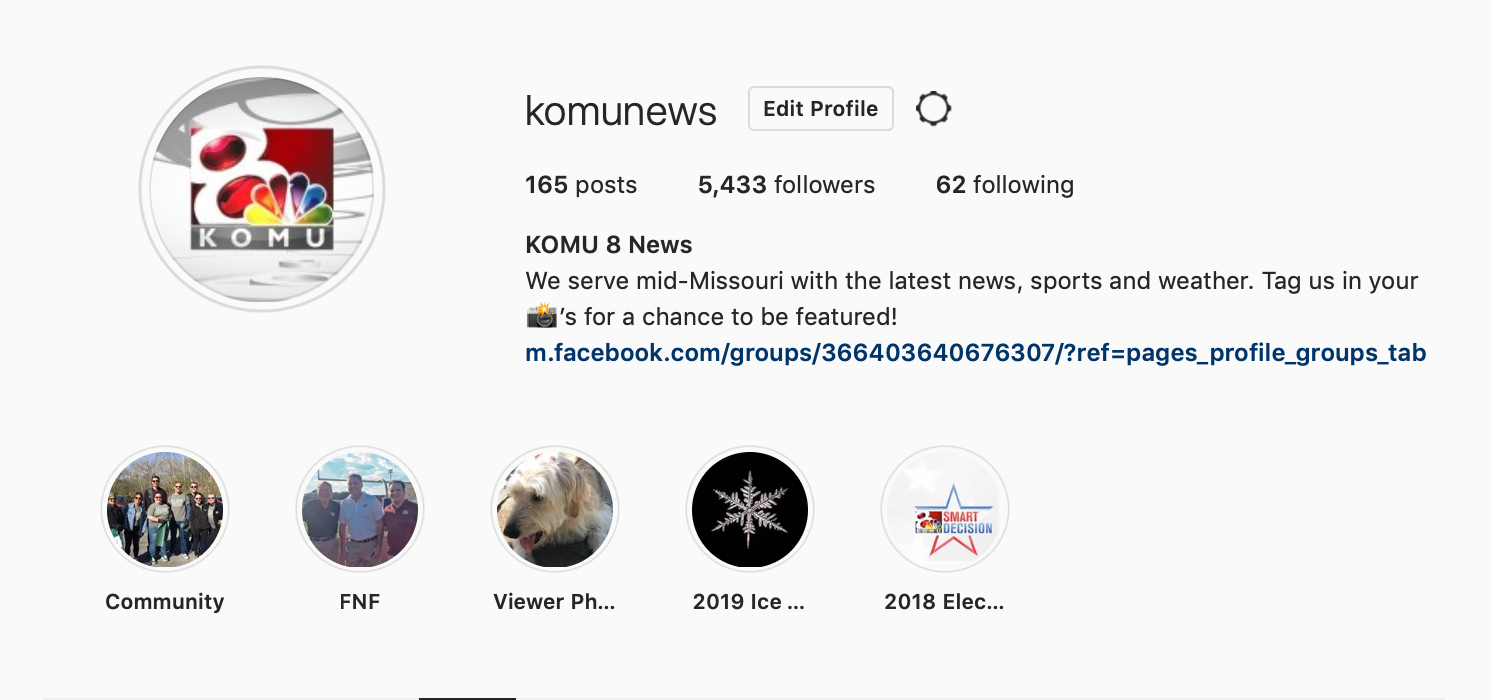 I am currently the only student who manages and posts on KOMU 8's Instagram page. I post reporter videos created for Facebook, keep a tab on the professional anchors and share community photos. Since taking over the Instagram account in October of 2018, the page has grown more than 4,000+ followers. The page has grown substantially from an inactive page to a community driven account with around 250 profile visits every week. 
Over the 2018 midterm election, I created engaging content that was 'behind the scenes' coverage with our team of reporters and anchors. I did this by using the interactive Instagram Story feature, as seen below. This digital reporting was a way of reaching an audience that was potentially not watching the 5/6 or 9/10 p.m. newscasts - and it worked! It is something that boosted the station's presence on Instagram.
I'm constantly stretching my skills to try and be more interactive for the eight county viewing area that KOMU 8 serves.
Instagram Stories: COVID-19 testing sites in Columbia, Mo.

The COVID-19 pandemic has led to a whole new set of problems newsrooms must face. To keep Instagram content up, I created the following Instagram story for KOMU 8. My goal was to give viewers a chance to engage with us as a news organization, but also to inform them.
I found out that people weren't sure on where to go if they needed to get tested from reading viewer comments on our website, and social media pages. I took it upon myself to create this Instagram story specifically with that information.  
YouTube: Proliferation of potholes poses problems across city, state
I worked with the Columbia Missourian to create a social media video to supplement a reporter's larger story in April, 2019. I was sent on assignment to go around popular routes in Columbia, Missouri to capture the sights and sounds of vehicles driving over the many potholes in the city.
Twitter: 2018 Midterm Election Coverage
I was a field digital reporter and producer for elected Sen. Josh Hawley's watch party during the 2018 Missouri Senate race. Hawley was in Springfield, Missouri. 
I worked with the field digital reporter at Claire McCaskill's watch party in St. Louis to create objective coverage of the night's events. 
In the field, I cut videos for an interactive experience for viewers on Twitter. I tweeted several graphics out, like the one above, of Josh Hawley quotes. These were all for the live blog that was created in the newsroom for KOMU 8's website. 
As a digital producer, I also facilitated and filmed Facebook Lives of the student reporters I worked with.